Are you a former over-the-air (OTA) viewer of Global Television on Channel 2 analogue, CIII-TV-2 (Bancroft/Vennachar, Ontario)? If so, I hope to interview you for Part 2 of my documentary trilogy, Dude, Where's My TV? presents A Tale of Two Transmitters.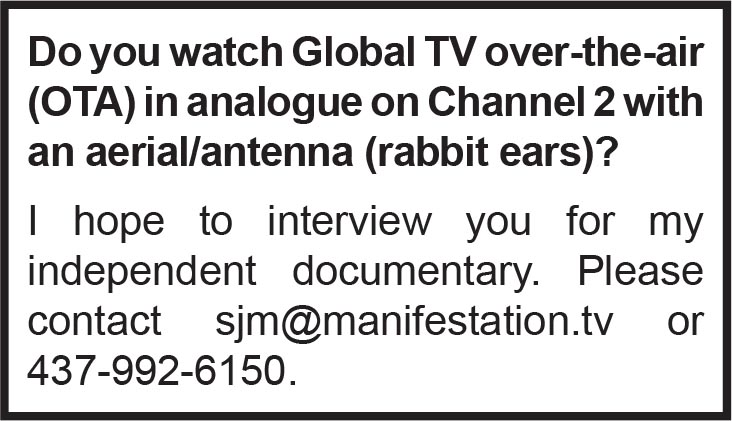 Dude, Where's my TV? presents Ben v. Bell
Episode one of the Dude, Where's my TV? documentary trilogy.
(22 minutes, HD, Colour, 16:9, 2019)

"Political economists of communications scrutinize how big companies such as Bell and Rogers try to shape Canada's telecommunications and digital media policy and regulatory environment in support of their bottom line. Focusing on Ben Klass' filing of a net neutrality complaint with the CRTC against Bell, Steven James May's Ben v. Bell shows how an informed, engaged and active citizen can intervene in and disrupt an otherwise cozy institutional relationship between economic and political elites. This short documentary tells an inspiring story about the importance and efficacy of a citizen's participation in communications and digital media policy-making and regulatory processes."

-Tanner Mirrlees, Associate Professor of Communication and Digital Media Studies, Ontario Tech University

To request online access to Ben v. Bell for your post-secondary or public library, please contact sjm(at)manifestation(dot)tv .

Thank you to the following Canadian post-secondary libraries for carrying Ben v. Bell!:

-Humber College

-Centennial College

-Sheridan College

-Wilfrid Laurier University

-Ryerson University

-Trent University

-University of Ottawa

-University of Guelph

-York University

-University of Calgary

-University of Toronto, Mississauga

-Concordia University

-University of Waterloo

-Loyalist College

-University of Winnipeg